Why going to the cinema if you can have your own movie paradise at home? The best home theater design ideas really cater to the owners' personalities, from the pop culture-inspired to family-friendly, from playful to elegant. Here are 26 great ideas you can try for your own home cinema experience.
1. Minimalist Futuristic
Combining all-white interior with square seats and high, the narrowed ceiling will make you feel like you are in a spaceship's cockpit. You can arrange the seats in certain positions, so they look like actual cockpits. Light blue LED lights along the walls to create a feel like your spaceship is "engaged" for flight. Dark ceiling with planetarium-like stars completes the overall look.
2. Vintage – Luxurious 20's
Go back to the roaring 20's with vintage home theater design. It has a Baroque look with high, frescoed ceiling, complete with chandelier lamps as accents. A large chandelier in the middle ties up the entire look. Greece-style columns on the sides, along with red carpet and curved frames, creating a luxurious look. The rows of diamond-patterned red seats complement the vintage touch.
3. Modern "Zen" Cinema
A sleek and modern "Zen" theatre looks great with floor dining area for a one-stop entertainment spot. Using striking colors such as red and black is a fresh way to interpret a "Zen" look, but subtle wall patterns and latticed partitions soften the look. The space in front of the seats can be used for a low dining table with seating pillows, perfect for casual nights with loved ones or friends.
4. Vintage Broadway's "Great White Way"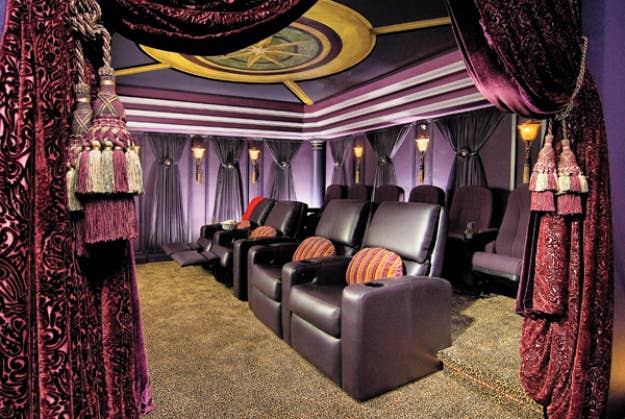 Go back to the late 19th century Broadway with home theater design that mirrors the famous Great White Way Street. Gold and purple are uncommon and striking colors for modern home theaters, which emphasize the exclusive feeling. Heavy, patterned curtains with tasseled belts make the home theater look like a Broadway stage. Striped pillows and leather seats make great pairs, along with the thick, plush carpet.
5. The Golden Era of Cinema
Bring the grand luxury of Hollywood Golden Age with a vintage posh home theater. With the classic combination of red and gold, this home theater will be a dream of any movie fans. Heavy red draperies dramatically cover the screen when unused. Golden accents on the lighting fixtures, door frames, and around the screen make the home theater look expensive. Patterned carpets perfectly match the entire look.
6. Playground-themed Home Theater
A colorful, playground-themed home theater is perfect for family nights. Bright colors such as blue, yellow, green and red dominate the room in charmingly clashing ways. The words "CINEMA" are spelled with customized alphabet boxes on the corner. Restrained decorations make the home theater still suitable for older family members and guests, despite the bright colors.
All the red seats were arranged on a circular platform, which emphasizes the playful tone. The platform has button-like fixtures at the front, which resemble board games.
7. The 3D Ceiling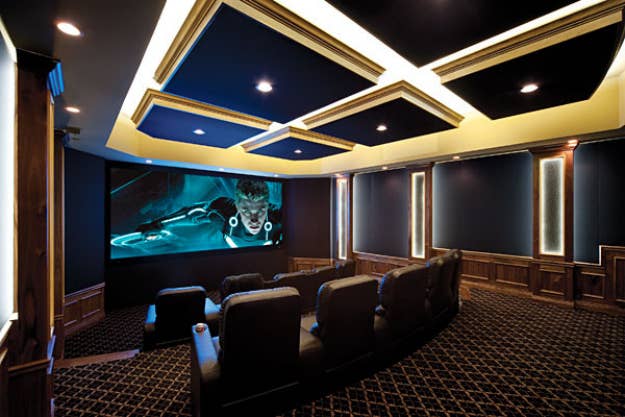 A 3D design element will turn the regular home theater into a unique cinema haven. A high ceiling with light color is a great background for prominent dark blue panels with lamps. Pair it with dark blue walls and patterned carpet. Brown leather seats complement the modern look, along with rectangular wall panels that provide subtle light.
8. Movie-Nerd Home Theater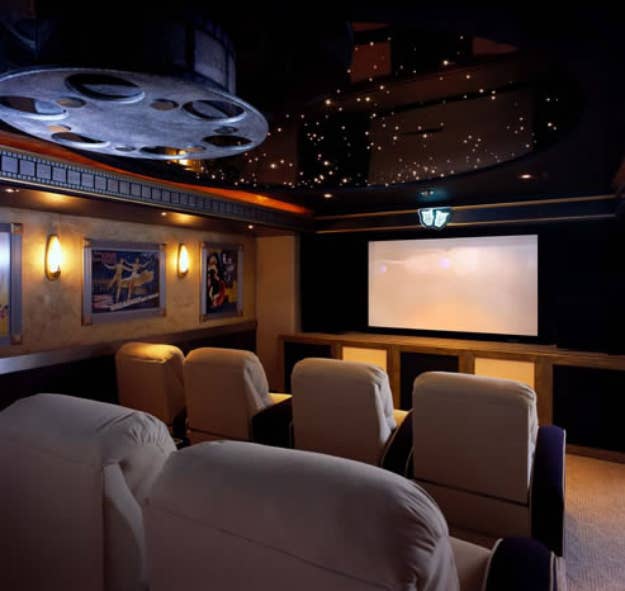 Spoil your inner movie or drama nerd by creating a home theater with such theme. A star-studded ceiling with custom movie reel lamp creates an unmistakable atmosphere to delight avid cinephiles. Filmstrip pattern and vintage movie posters are the perfect decorations for the walls. The simple seats and floor will remind you of the simplicity of a school movie club.
9. Grand Home Entertainment Center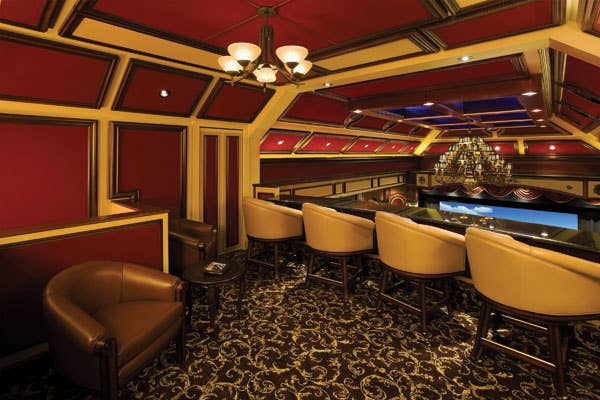 A grand home entertainment center will help you and your guests relax like kings and queens. The red and gold color schemes remind of Hollywood's Golden Age era cinema, but the clean lines modernize the entire look. An intricate chandelier adorns the high ceiling, perfectly accompanied by lamp scone walls. The home theater has not only leather seats, but also a long bar table and additional seats behind it, allowing more options for the guests to enjoy their time.
10. Drive-in Style Home Theater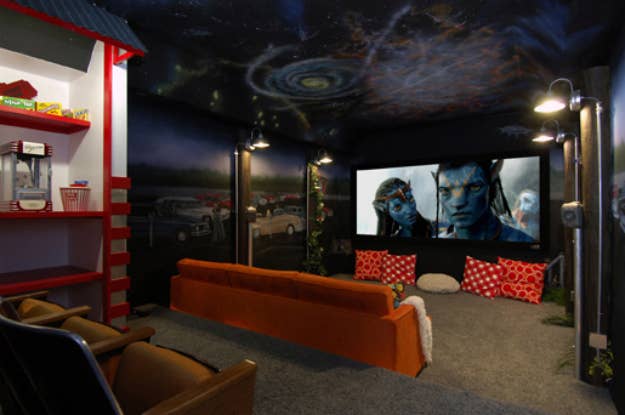 If you prefer a casual, rustic touch for the home theater, a drive-in theater can be your inspiration. A printed wallpaper with actual drive-in illustrations creates "outdoor" illusion, especially with the night sky theme on the ceiling. Long sofa, printed cushions, and vintage metal light fixtures create charming old-school appeal. A tall, red-and-white concession shelf completes the look, along with a vintage popcorn machine.
11. Mario Bros-themed Home Theater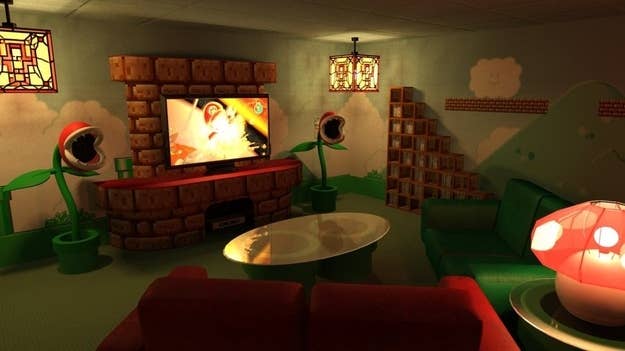 Can't get rid of your obsession toward Mario Bros? Mario-inspired home theater can be the solution. This home theater uses mushroom lamp and ornament, brick accents on the walls, and red-green color schemes. The walls are adorned with background from the game. This room will satisfy every Mario lover.
12. Family Theater from Childhood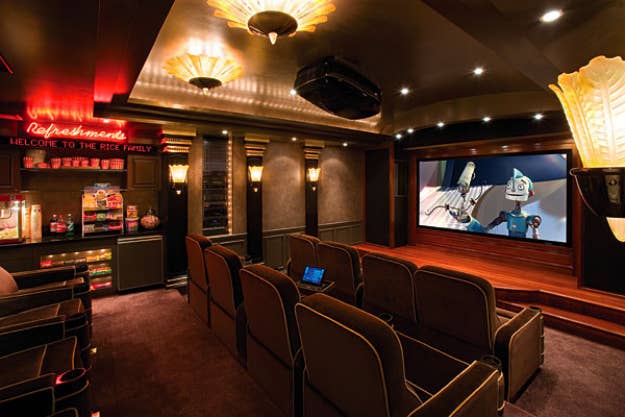 Hark back to the memories of 80's and 90's movie theaters with this family home theater. The wooden platform in front of the screen gives a familiar stage-like look. The brown leather seats are close to each other but don't feel suffocating. The warm earth colors and elegant, modern chandeliers make the room a perfect place for family hangout.
A concession stand is a place where children will flock in before the movie starts. This home theatre has a replica of an old-school concession stand, complete with popcorn machine, candy shelves, and lines of red-and-white popcorn boxes that double as decorations.
13. The Sound System Heaven
Every gizmo addict will not want to skip this sound system-laden home theater. The round room gives a more contemporary feel and mimics the speaker parts. Two giant subwoofers and smaller mini subwoofer towers not only provide spectacular sounds but also frame the screen, creating a unique look. The other sound systems are stacked in front of the screen, promising immersive movie experience.
The blue tone and circular glass table make the room look futuristic, but the wooden floor adds warmth to it. Blued LED spotlights help to create a dramatic atmosphere, while designated warmer lamps illuminate certain spots in the home theater to direct your focus.
14. Starry, Starry Night
You spend hours watching stars acting on the screen, so why don't have actual stars in the home theater? Dark ceiling with realistic stars will make your movie experience more interesting. The dark seats complement the ceiling, but the ivory walls and patterned carpet balance the darkness. Since New York City is a popular setting for many Hollywood movies, turning it into the wall art theme seems appropriate.
15. Home Theater and Billiard Club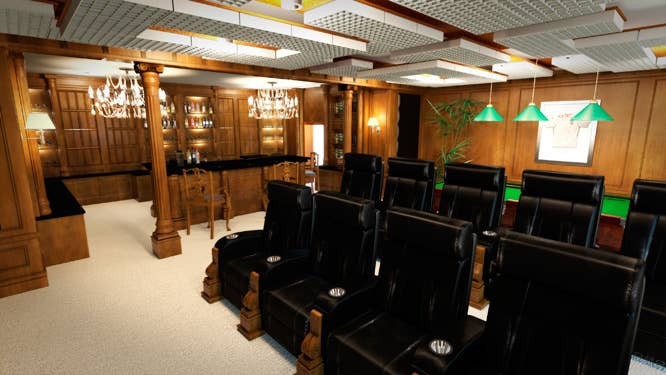 A billiard club is a perfect place for gentleman's lazy hours, especially if it has a home theater set. This home theater/billiard club is masculine but elegant, with wooden interior and green pendant lamps that match the billiard table. The black leather seats have wooden accents and places to hold cigarettes or drinks on the sides. The ceiling has textured, industrial look, but the double French doors balance the sharp design elements.
16. Sport Stadium-themed Home Theater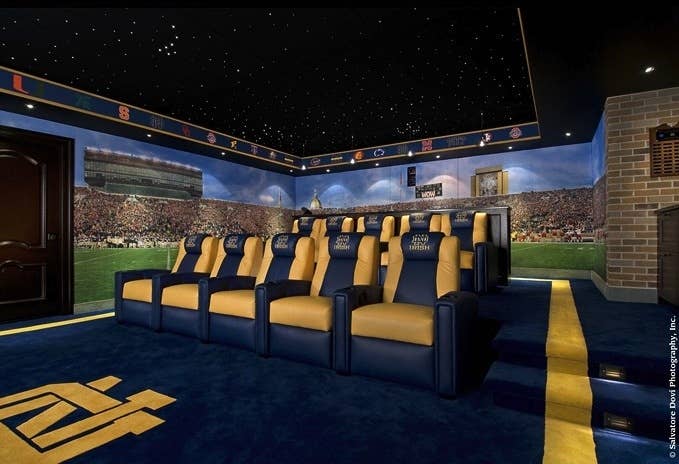 This sport stadium-themed home theater will make your favorite games more spectacular. The walls combine exposed bricks and wall art depicting a stadium. The seats and carpet use the color schemes of a favorite team. The ceiling is black and adorned with stars, making the room feel like a packed stadium during night sports games. This room is basically a canvas, and you can decorate it with elements from your favorite football, soccer, basketball, or hockey teams.
17. Lord of the Rings-themed Theater
The Lord of the Rings brings amazing fantasy realm to a modern audience, so why don't adorn your home theater with this theme? This home theater combines wood elements with earth colors, intricate decorations, and fantasy realm mural. The green colors make you feel like being in a Lothlorien Forest or Imladris Valley. The leather armchairs and circular wooden table exude comfort that you will find in any Hobbit house.
18. Vintage European House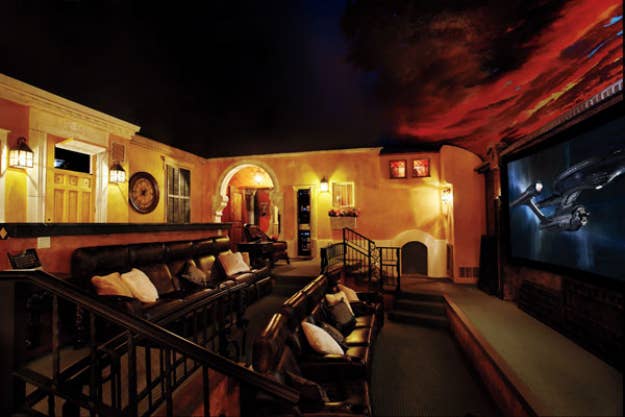 If you fall in love with the vintage charm of European buildings, just bring it to your home theater. This room has two-row seats that look like they are parts of a British house porch. Wrought iron railings flank the seat rows, lining the low stairs and platform in front of the screen. The doors resemble typical wooden doors in European houses, complete with square lantern lamps on the walls.
This home theater even went far by adding cobblestone path and flower stands outside the home theater. The replica of a small European town is a great way to connect the home theater with the rest of the house.
19. Rustic Goldmine-style Home Theater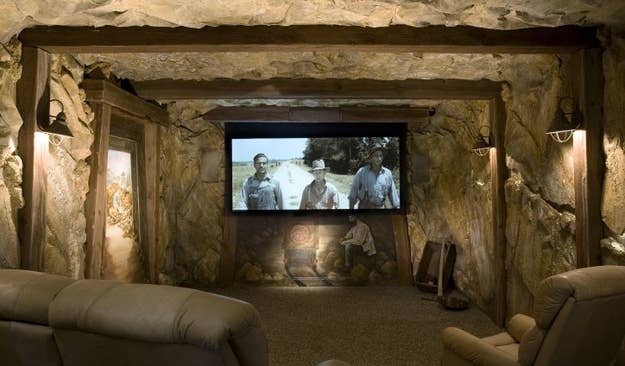 Have you ever heard of a hotel built in an unused mine? This home theater took the similar way with goldmine-inspired interior design. The stone exterior provides rustic feeling, complete with a wall art depicting an old-school miner. Wooden beams and iron lamps complete the rustic look.
20. The Starship Enterprise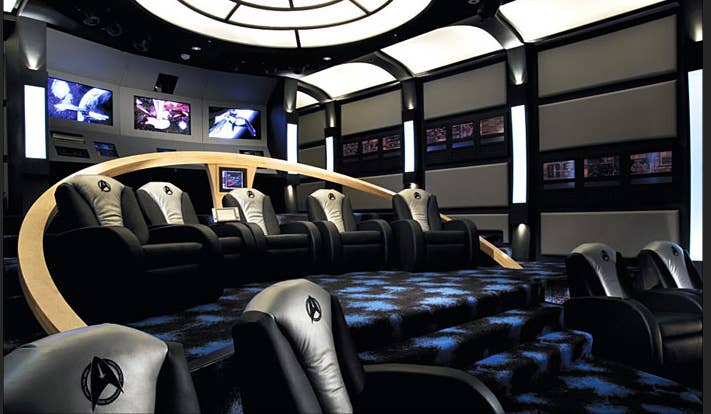 Star Trek fans will appreciate this Starship Enterprise-inspired home theater. The seats were separated into three sections, with a circular frame that resembles a command center. The room is surrounded by LCD screens with space-related images, making it feel like you are in an actual Starship Enterprise. The dominant schemes are the futuristic dark blue, black, and white, with a little streak of gold. The seats are adorned with the familiar logos that any fans will recognize.
21. The Nautilus Submarine
Jules Verne's 20,000 Leagues under the Sea features a state-of-the-art submarine called Nautilus, despite the novel being published in the era where the submarine was not invented yet. The inside of the submarine is described as technologically advanced, but with a touch of luxury in the captain's cabin. This home theater combines both things with industrial design elements, plush red seats, and patterned carpet.
The doors and ceiling are made of industrial steel, although custom-order replica is available. Sea-related ornaments adorn several spots and create a navy theme, including a steampunk submarine replica in front of the screen and portholes on the doors. A classic, gold-rimmed clock complete the vintage look.
22. Midnight Indoor Pool with Home Theater
This midnight pool/home theater combines the best luxuries you can have in a house. The pool is surrounded with lounge chairs, providing strategic view toward a large wall screen. Movie posters decorate the wooden walls, and the ceiling has realistic-looking stars with turquoise LED lamp linings to create "realistic" night sky.
23. The Millennium Falcon
Show your love toward Star Wars with this Millennium Falcon-inspired home theater. This home theater looks like a command center, complete with life-sized figurines to make the atmosphere lively. Tall, black, cone-shaped subwoofers match the theme very well, and the realistic star wall arts make you feel like in an actual spaceship.
24. Stargate-themed Home Theater
Travel to other "planets" (or your favorite movie scenes) in this Stargate-themed home theater. The room is dominated by blue and earth colors to depict the clash between ancient civilization and futuristic space travel. Intricate wall arts and circular ceiling beams create a dramatic but relaxing atmosphere in this home theater.
25. The Bat Cave Home Theater
Channel your inner Bruce Wayne with this Bat Cave-inspired home theater. The place combines elegant mansion interior with haunting bat elements. Batman logos are mixed with gargoyle statues, and black leather seats are flanked with classic-style bookshelves. Lantern lamps and electric fireplace in the back make the home theater even more unique.
26. Jack Sparrow's Black Pearl
This Black Pearl-themed home theater will make you expect Jack Sparrow to jump out anytime. Mimicking the famous ship from Pirates of the Caribbean, this home theater is covered with washed wooden planks, complete with a raised "deck" that connects the home theater with other parts of the house. Sails, wooden barrels, and ropes decorate the home theater. Elegant black leather suits will make you feel like a pirate king.
These home theater design ideas are not only creative but also comfortable and modern. Make your movie nights more memorable with these unique home theaters.